01
Designed for the Sulcus
The
1stQ AddOn®
is a new generation sulcus based IOL technology that provides you with new options for your patients, irrespective of their lens status and eye health.
With the 1stQ AddOn® you can:
Enhance visual outcomes at any distance
Upgrade pseudophakic patients to trifocality
Plan trifocality with a dual-lens approach
Correct astigmatism for improved visual quality
Opportunities provided by two lens optics:
Higher precision with over 3400 possible power combinations
The power of choice: Select which optical functions to place into the capsular bag or into the sulcus
Remain flexible with the option to exchange or remove the sulcus lens atraumatically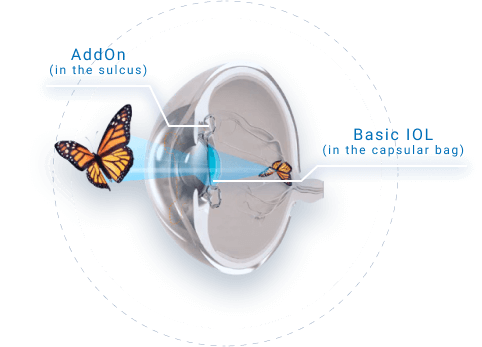 02
Spectrum of functional correction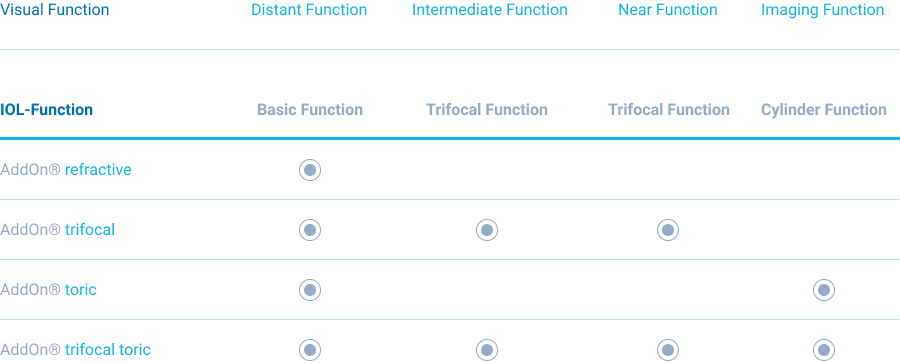 03
Areas of application
Refractive correction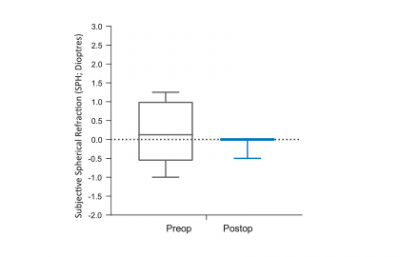 Almost zero residual refraction
Refractive outcomes are predictable. All eyes result in or close to the desired target refraction. Previous refractive surprises can be corrected, potential future surprises are managed with a planned two-step approach.
Astigmatism correction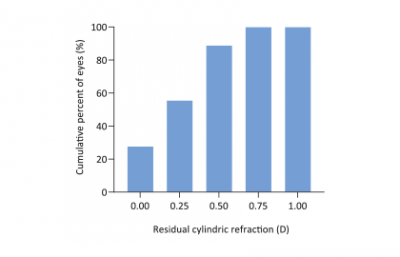 Efficient astigmatism-correction
The 1stQ AddOn® Toric supplementary IOLs ensure excellent cylindrical correction. The majority of eyes (89%) had residual refractive astigmatism ≤0.50 D, and all eyes (100%) were within 0.75.
Trifocal upgrade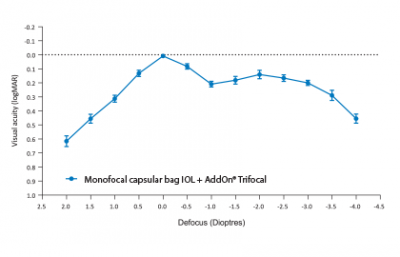 A chance for spectacle-free vision
Your pseudophakic patients with monofocal capsular bag IOLs can also experience the comfort and liberty of spectacle independence: the 1stQ AddOn® Trifocal lenses ensure excellent vision at all distances.
Planned Dual Procedure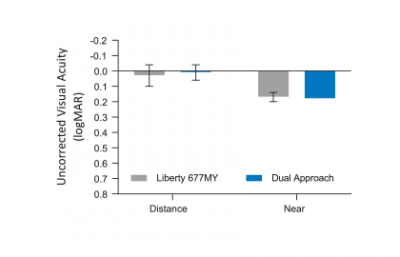 Reversible multifocality
Do you wish to have more options when deciding on multifocality? Why don't you consider the implantation of a monofocal capsular bag IOL together with the 1stQ AddOn® Trifocal? Refractive and visual outcomes are identical to that achieved with a trifocal capsular bag IOL.
Post-PKP correction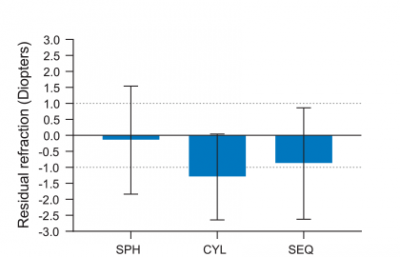 Minimal residual refraction
In the case of pseudophakic patients after PKP, the secondary use of the 1stQ AddOn® IOL is able to significantly reduce astigmatism from a preoperative mean of 6.5 D to a mean of 1.0 D postoperatively.
Temporary optical compensation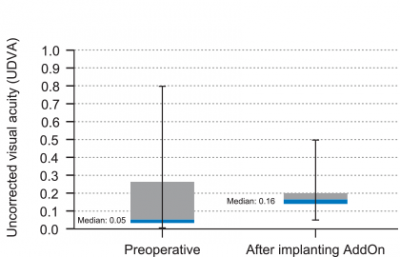 Compensation of hyperopic shift after PPV
A typical example of the temporary use of the 1stQ AddOn® IOLs is silicone oil tamponade after pars plana vitrectomy. PPV is known to cause a hyperopic shift of about five dioptres, which leads to the well described challenges of achieving acceptable binocular vision after surgery. The 1stQ AddOn® IOLs offer a simple and reversible solution to compensate for the refractive changes during this transitional period.